As a process aid to sheet metal fabrication we first introduced Co2 Laser Cutting at the turn of the century. Since then we have gained vast experience in processing many ferrous and non-ferrous materials. In 2013 the introduction of Fiber technology enabled efficient cutting of Brass and Copper alloys. Today with over £1million invested in high power Bystronic Fiber technology we are able to accommodate most metals in the thickness range of 0.5mm to 25.0mm.
Both of our Bystronic Fiber machines, a Bystar 8Kw a Bysprint 3Kw are fitted with sheet handling automation. The Bystronic Byloader and automatic pallet changer ensure a scratch free and productive means of handling raw materials.
Both machines can be loaded with up to 3 Tons of raw material for lightly manned production. We use all industry standard sheet sizes up to 3000 x 1500 – The machines are networked with Bysoft7 programming and nesting software, which offers unrivalled cutting paths and sheet utilisation.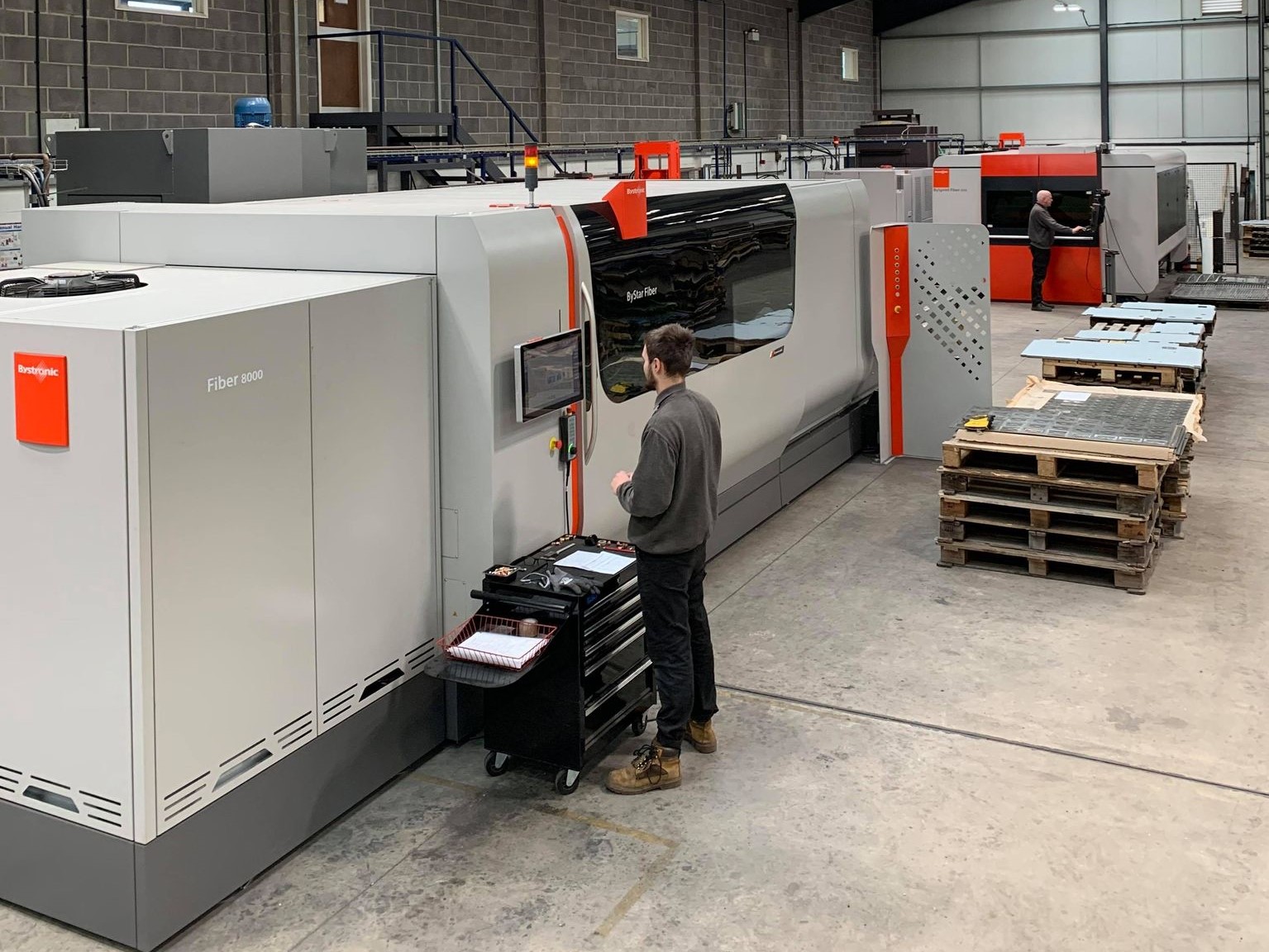 The Bystar 8Kw Fiber has capacity to cut Carbon Steel from 0.5-25.0mm, Stainless Steel from 0.5-20.0, Aluminum from 0.5-15.0, Copper from 0.5-10.0 and Brass from 0.5-10.0. Be it thick or thin, sheet cutting performance is most spectacular. Axis speeds in excess of 50M/Min and axis acceleration 60m/s2 regularly achieved.
The Bysprint 3.0Kw Fiber Laser gives capacity to cut Carbon Steel from 0.5-20.0mm, Stainless Steel from 0.5-10.0, Aluminium from 0.5-6.0, Copper from 0.5-6.0 and Brass from 0.5-6.0. Often used on more intricate work this machine has agile point to point performance combined with impressive beam-on long cut speeds of 40M/Min.
Using N2 cut assist gas our edge quality is perfect. Smooth and completely burr free with a bright oxide free cut face that requires no secondary finishing. Our Fiber Laser sources uses less than 1/3 of the power of conventional CO² Laser, whilst maintaining production are doing our bit for the environment too.
Our cutting objective is all about process security, we consistently produce high quality parts. With lightly manned processing and Bystronic observer software our machine output is highly dependable. Our cutting assist gas is N2, Nitrogen is an inert gas. It does not react with the molten metal, even when the laser heats the surface to high temperatures. Its purpose in laser cutting is to exclude oxygen from the cutting zone, preventing the metal from oxidizing or discolouring. The result is a clean edge that does not require any cleaning up after the cutting is complete.
We have our own in-house Nitrogen generation plant, with 300Bar high pressure storage. We are able to generate our gas requirements overnight. The plant has capacity to produce almost unlimited amounts of low cost clean N2 assist gas; Nitrogen clean cut aids our process security and greatly adds to the quality of your parts.
Triple seats of fully maintained Bysoft7 and Radan CAD/CAM computer software allow complex components and nests to be programmed. We are able to accept customer files as 2D or 3D imports. Import file formats include DXF, DWG, IGES & STEP.
For further information about how we may be able to help with your laser cutting requirements, please don't hesitate to contact us – we'll be delighted to hear from you.